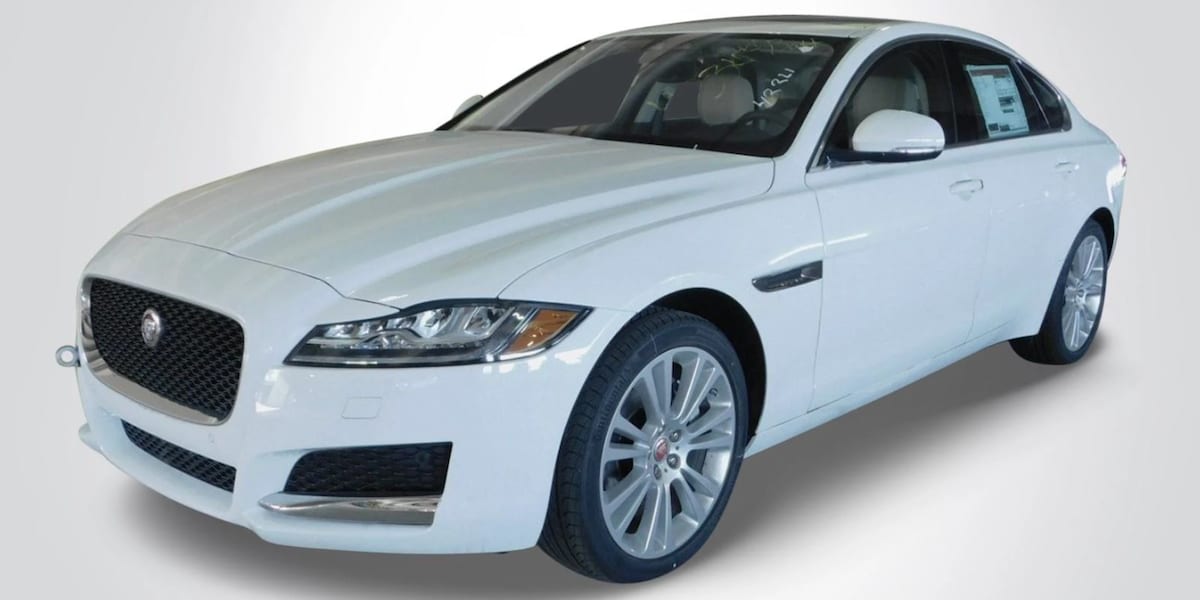 Used Jaguar XF Overview
The Jaguar XF is a mid-size 4-door luxury sedan offering a variety of different engine options and configurations. Production started on the Jaguar XF in 2007, and received a major refresh in 2015. The XF typically comes with either a I-4 or V6 engine, but some top-of-the-line performance models feature a 5.0L supercharged V8. The XF features either rear-wheel drive or all-wheel drive. Early models utilize ZF 6-speed automatic transmission while 2015 and newer XF models feature a silky smooth 8-speed ZF automatic transmission to help transfer the power to the wheels. The XF is also available as a Sportbrake (sleek sedan/wagon mix), which is rare to find these days.
Inside you will find exciting features such as keyless entry and start, plush leather seating, blind spot monitoring and driver memory systems. Newer models feature the InControl Touch Pro infotainment system with a 10.2-inch touchscreen. The infotainment system works alongside a configurable 12.3-inch digital instrument cluster and a 17-speaker, 825-watt Meridian Surround Sound System. Even passengers in the rear are treated to creature comforts including 2 HDMI ports, 2 USB 3.0 ports, and a 12V power socket.
Whether you are behind the wheel or lounging in the backseat, the Jaguar XF offers an excellent blend of sophisticated style, luxury, and performance.
Used Jaguar XF Model Years
2007 Jaguar XF
2008 Jaguar XF
2009 Jaguar XF
2010 Jaguar XF
2011 Jaguar XF
2012 Jaguar XF
2013 Jaguar XF
2014 Jaguar XF
2015 Jaguar XF
2016 Jaguar XF
2017 Jaguar XF
2018 Jaguar XF
2019 Jaguar XF
2020 Jaguar XF
Used Jaguar XF Trim Levels
Used Jaguar XF Base
Used Jaguar XF 2.0 Turbo
Used Jaguar XF 20t
Used Jaguar XF 20d
Used Jaguar XF 3.0 Supercharged
Used Jaguar XF 30t
Used Jaguar XF 35t
Used Jaguar XF Premium
Used Jaguar XF Portfolio
Used Jaguar XF Prestige
Used Jaguar XF R-Sport
Used Jaguar XF S
Used Jaguar XF Sport
Used Jaguar XF Supercharged
Used Jaguar XFR
Used Jaguar XFR-S
Common Jaguar XF Questions
What year did the Jaguar XF come out?
The Jaguar XF was first introduced to the public in 2007, and deliveries began in March 2008. In 2015, the Jaguar XF received a significant refresh, which included a new interior and exterior design, an aluminum-infused frame, and seamless 8-speed transmission.
What is the best Jaguar XF engine?
The 2.0L turbocharged 4-cylinder engine found in the 25t XF models offers a perfect blend of power and efficiency. If you are looking for a bit more power, the 3.0L supercharged V6 found in the 30t and 35t models is an excellent choice as well.
What does XF stand for?
The "XF" is not an acronym for anything; it's merely just the model name Jaguar has chosen. Other Jaguar sedan models include "XE" and "XJ."
Is the Jaguar XF any good in snow?
With the available all-wheel drive driveline and a good set of winter tires, the Jaguar XF can handle the snow fairly well. It's important to remember though snowy conditions are always treacherous, and drivers should always use extreme caution.
What Jaguar XF is the top of the range?
Technically the Jaguar XFR-S is the top of the range XF model. It features a race-inspired exterior and interior, a high performance 5.0 L V8 producing 550 hp, and has a top speed of 186 mph. Since that was a limited production vehicle, the XE S is realistically the top of the range model offering all-wheel drive, a 3.0L supercharged V6, and numerous exciting standard features.
Similar Used Jaguar Models
Shop Used Jaguar XE Sedans at Jaguar New Rochelle
If you are looking for a used Jaguar XF in the Westchester County area, you've come to the right place. Jaguar New Rochelle offers one of the largest selections of used Jaguar XF models in the Greater New York City area. Whether you are interested in a used Jaguar XF 25t Premium for commuting into NYC or a used Jaguar XF 35t Prestige for simply cruising around the New Rochelle, Yonkers, and Mt Vernon areas in style, the team at Jaguar New Rochelle is here to help. As your local Jaguar dealership we not only offer new Jaguar models, but also used luxury cars and SUVs. Feel free to browse our entire selection of used cars for sale to see what other vehicles we have in stock. When you find a used Jaguar XF or other premium used vehicle that interests you, give us a call at (914) 359-3210 to schedule a test drive!